CONSERVE MY PLANET
"The Earth is what we all have in common" said WENDELL BERRY. Protection and conservation of the planet requires the combined efforts of all people living in it. Our school CHETTINAD VIDYASHRAM has taken great initiatives to save the Earth from obliteration by conducting "CONSERVE MY PLANET" programme for the past five years.
The school has an active team of 100 vibrant, enthusiastic Green Ambassadors led by our principal Dr. Mrs  S. Amudha Lakshmi with the teacher co ordinators.
In pursuance of this avowed objective, the following are some laurels   won by our Green Ambassadors.
In 2014 – Maximum Participants Award
2015 – Best Teacher Co ordinator Award
2016 – Best School Award
2017 – Best Green Practices School Award
In this year 2019, our student Kousalya A B of class 7H has bagged the GREEN CHAMPION OF CHENNAI 2019  Award in the interschool competition wherein  more than 10 schools had contested.
 Our teacher co ordinator Mrs. Sowmya Ravi won the Best Teacher Co ordinator Award. – 2019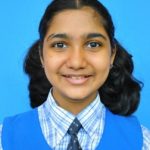 Akshara Uppuluri, Std 8-K participated in an online quiz competition conducted by ISRO in August 2019.  This quiz was a part of an initiative launched by the Government of India to select students from all over the country to watch a satellite launch from the facility at Sriharikota.  She is the only student from Tamilnadu to receive this honour.
Hindi Sahityik Sabha 'Sadhana':
Krishnajayanthi Celebrations (Primary):
Varalakshmi Pooja Celebrations (Primary):
Bard's Beacon: English Dept.